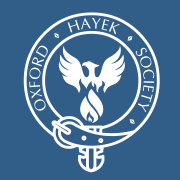 The Oxford Hayek Society is committed to the advancement of individual liberty, that is, social and economic freedom, at the University of Oxford. We are supporters of private property, the rule of law, free markets and civil liberties.
The Society was founded in 1983 and named after Friedrich August von Hayek (1899–1992), an Austrian-born economist and political philosopher. From 2008 to 2012 it was known as the Oxford Libertarian Society.
We have links with a number of free-market think tanks, including the Institute of Economic Affairs, the Adam Smith Institute and the Globalisation Institute.
During term time, we hold a mixture of speaker events and socials. Our guest speakers talk on a wide variety of topics, including current affairs, economics, political philosophy and history.

Speaker events are open to both members and non-members, and we encourage students of all political persuasions to attend and to contribute. The usual format is a brief talk followed by questions and informal discussion. Drinks are held afterwards in the bar or a nearby pub.